Traveling to the Fairbanks area?
Please fax a courtesy dosing request a 7-14 days in advance to 907-452-8176.
 
Cost is $20/day or $120/week (must be paid in advance).
Our clinic is located at 710 3rd Ave, Fairbanks, AK 99701.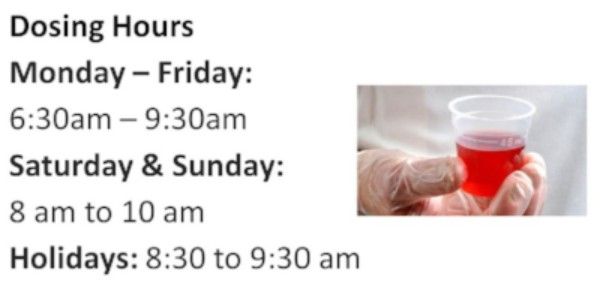 ---
Moving to the Fairbanks area?
Medication maintenance consumers enrolled in programs other than IMAT may request approval for transfer to and enrollment in IMAT. Individuals requesting approval for transfer must work with their home program to insure that all appropriate records are copied and sent to IMAT for review. The transfer application process begins when the consumer's home program contacts IMAT.  Documentation forwarded to IMAT should include admission documents including verification of addiction, physical and health history:
Recent assessment, diagnosis, summary and treatment recommendations.
Dosing and other medication records for previous 60 days.
Current Treatment Plan.
Transfer patients will be required to dose on-site for the first 60 days following admission to IMAT. Limited exceptions to the 60 day period may be approved to facilitate employment. Transfer patients who have previously qualified for take-home privileges may request a return to the previously approved dosing schedule following 60 days of MMT at IMAT, but under no circumstances is a return to the previous take-home schedule guaranteed. Criteria for evaluating a return to the previous schedule include: adjustment to new program (attendance, urinalysis, cooperation, and communication), ability to support self and/or family in new community, completion of required activities or tasks.
IMAT may deny approval of a transfer when, in the best judgment of the clinical staff, the transfer is not in the best interest of the consumer or because IMAT cannot meet the needs of the consumer at the time. 
Please note: We are unable to accommodate last minute requests. At least one week's advance notice is requested prior to your arrival.