Our Mission
IAA's mission is to improve the quality of life for people living with, affected by or at risk for HIV/AIDS or other stigmatized conditions - often related to sex or drug use - through harm reduction, resource development and advocacy as best suits the people who need help.
---
Our History
Founded in 1988 by a group of concerned Fairbanksans, the Interior AIDS Association (IAA) is the only community-based, nonprofit organization in interior Alaska that focuses solely on HIV related prevention, case management and other support services. With the development of a new program, Project Special Delivery, which opened November 30, 2000, IAA became the only provider of methadone treatment services in Interior Alaska.       
Informative card from the early days of exchange services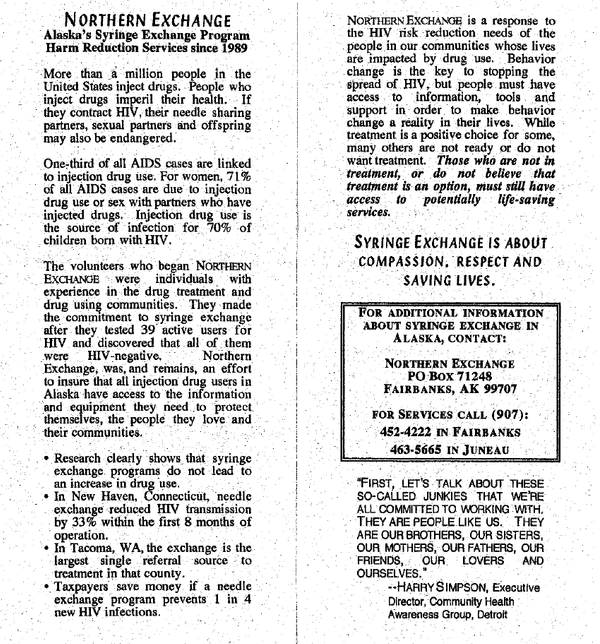 ---
Prevention services include:
HIV education for individuals and groups at risk
Education and support for HIV+ individuals to decrease their risk of infecting others
Northern Exchange Syringe Service Program – providing a range of safer drug use supplies
Medication Assisted Treatment (MAT), which will reduce the risk of HIV transmission by decreasing or eliminating injection drug use among people dependent on opiates and by providing education and support for safer behaviors.
Medication Assisted Treatment
IAA's Project Special Delivery provided medication assisted treatment with methadone since 2000. Thanks to some new federal funding, we re-branded the program as Interior Medication Assisted Treatment in 2017 and expanded our services to include all three medications for the treatment of opioid addiction – methadone, buprenorphine and Vivitrol®. IMAT is an opioid treatment program (OTP) with embedded structure for people with complex treatment needs. The overall goal of the project is to assist individuals to regain or establish the control necessary to build and maintain an informed, productive and dependency-free lifestyle.
---
Service Delivery
IAA programs are developed and implemented by staff with a variety of backgrounds who also have the skills, training and experience to deliver the services they are assigned. HIV Prevention staff (and most IAA staff) complete the state-sponsored "Client-Centered HIV Risk Reduction Counseling and Giving Test Results." IMAT staff must meet education requirements and achieve certification as substance abuse counselors. IMAT is an accredited outpatient substance abuse treatment program. HIV Client services staff are trained Social Workers.
---
Outcomes:
Increased knowledge among the target populations about HIV and risk reduction strategies;
Increase in skills related to personal risk assessment, decision-making and sexual negotiation among members of target populations;
Increased access to and utilization of safety materials including condoms and new syringes;
Decreased fear, stigma and HIV-related discrimination among members of target populations;
Increased social support for safer behaviors within the target populations;
Decreased HIV-related risk behaviors among those individuals who have participated in IAA prevention activities;
Improved health and quality of life for HIV-positive clients;
Improved health and quality of life for opioid addicts enrolled in IMAT.